Technocracy, Trilaterals & TPP: An Interview with Patrick Wood
Author: Lisa Arbercheski•September 11, 2015
Tags:Agenda 21 Sustainable Development Green Economy, Antony C. Sutton, CFR UN United Nations 1992 Rio Conference Agenda 21 Trans-Pacific Partnership TPP, Declare Your Independence Ernest Hancock Freedoms Phoenix, Eugenics Scientism Population Control, Future of Freedom, New International Economic Order, NWO New World Order Globalization Government, Patrick Wood Technocracy Rising The Trojan Horse of Global Transformation book, Richard Grove Tragedy and Hope, scientific dictatorship, Smart Growth Smart Grid Total Awareness surveillance Smart Meters Green Energy, Transhumanism, Trilateral Commission Trilaterals, Zbigniew Brzezinski David Rockefeller
As Richard Grove continues production on his current documentary film project, The Future of Freedom, we're pleased to present a recent step in progress in the form of this multi-hour interview with author Patrick Wood, examining the history, context, and substantial evidence contained in his recent book, Technocracy Rising.
Part 1: Energy based Currency, Columbia University origins of Technocracy, Eugenics, Population Control, and Agenda 21, origins of Positivism and Scientism:
Part 2: Trilaterals, CFR, Rockefellers, U.N., 1992 Rio Conference, Agenda 21 and Trans-Pacific Partnership (TPP):
Part 3: Wood's work with Antony C. Sutton, the Origins of the Trilateral Commission, Trilaterals and Larry King, and how the Trilateral Commission influenced the U.S. Govt. since 1973 to present day:
Patrick Wood is an author and lecturer who has studied elite globalization policies since the late 1970's, when he partnered with the late Antony C. Sutton to coauthor Trilaterals Over Washington, Volumes I and II. He remains a leading expert on the elitist Trilateral Commission, their policies and achievements in creating their self-proclaimed "New International Economic Order."
An economist by education, a financial analyst and writer by profession and an American Constitutionalist by choice, Wood maintains a Biblical world view and has deep historical insights into the modern attacks on sovereignty, property rights and personal freedom. Such attacks are epitomized by the implementation of U.N. policies such as Agenda 21, Sustainable Development, Smart Growth and in education, the widespread adoption of Common Core.
Wood is a frequent speaker and guest on radio shows around the nation. His current research builds on Trilateral Commission hegemony, focusing on Transhumanism, Technocracy and scientism, and how these are co-opting economics, politics and religion around the world.
Sincere thanks and gratitude to Ernie & Donna Hancock at FreedomsPhoenix.com for the use of their studio, and to Rick Malchow for his assistance in bringing you this interview.
Would you like to learn more?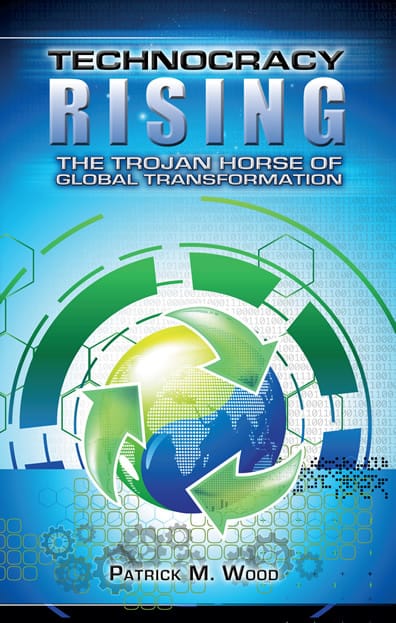 Visit Patrick Wood's websites: TechnocracyRising.com & The August Forecast & Review
Summary of Technocracy Rising: The Trojan Horse of Global Transformation:
The dark horse of the New World Order is not Communism, Socialism or Fascism. It is Technocracy.
With meticulous detail and an abundance of original research, Patrick M. Wood uses Technocracy Rising to connect the dots of modern globalization in a way that has never been seen before so that the reader can clearly understand the globalization plan, its perpetrators and its intended endgame.
In the heat of the Great Depression during the 1930s, prominent scientists and engineers proposed a utopian energy-based economic system called Technocracy that would be run by those same scientists and engineers instead of elected politicians. Although this radical movement lost momentum by 1940, it regained status when it was conceptually adopted by the elitist Trilateral Commission (co-founded by Zbigniew Brzezinski and David Rockefeller) in 1973 to be become its so-called "New International Economic Order."
In the ensuing 41 years, the modern expression of Technocracy and the New International Economic Order is clearly seen in global programs such as Agenda 21, Sustainable Development, Green Economy, Councils of Governments, Smart Growth, Smart Grid, Total Awareness surveillance initiatives and more.
Wood contends that the only logical outcome of Technocracy is Scientific Dictatorship, as already seen in dystopian literature such as Brave New World by Aldous Huxley (1932) and Nineteen Eighty-Four by George Orwell (1948), both of whom looked straight into the face of Technocracy when it was still in its infancy.
With over 250 footnotes, an extensive bibliography and clarity of writing style, Wood challenges the reader to new levels of insight and understanding into the clear and present danger of Technocracy, and how Americans might be able to reject it once again.
Watch: 5 Reasons Why You Should Read Technocracy Rising: