Peace Revolution episode 050: How to End Slavery in the 21st Century
Author: Richard Grove•February 26, 2012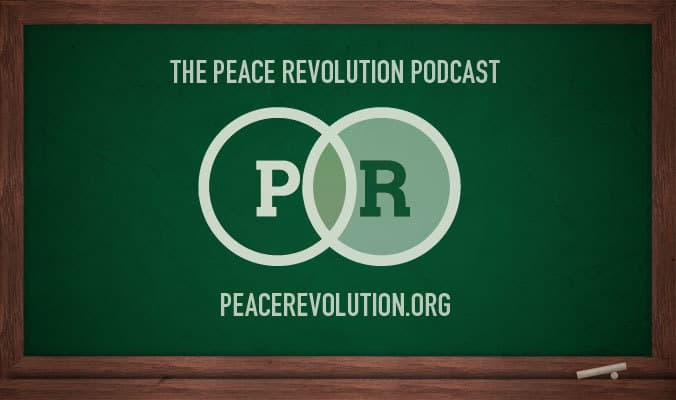 T+H Podcasts
Richard Grove
Peace Revolution episode 050: How to End Slavery in the 21st Century
Subscribe to Peace Revolution in iTunes: itpc://peacerevolution.podOmatic.com/rss2.xml
Peace Revolution Homepage: http://peacerevolution.podomatic.com/
Reference Map to episode 050:
10.  The Snake or the Rope? Courtesy of the Teaching Company Lectures on Freedom
11.  Swaraj (on Wikipedia)
Swaraj can mean generally self-governance or "self-rule", and was used synonymously with "home-rule" by Gandhi[1] (Hindi: swa- "self", raj "rule") but the word usually refers to Gandhi's concept for Indian independence from foreign domination.[2] Swaraj lays stress on governance not by a hierarchical government, but self governance through individuals and community building. The focus is on political decentralization.[3] Since this is against the political and social systems followed by Britain, Gandhi's concept of Swaraj laid stress on India discarding British political, economic, bureaucratic, legal, military, and educational institutions.[4]
12.  Self-Governance (on Wikipedia)
Self-governance is an abstract concept that refers to several scales of organization.
It may refer to personal conduct or family units but more commonly refers to larger scale activities, i.e., professions, industry bodies, religions and political units (usually referred to as Local Government), up to and including autonomous regions and aboriginal peoples (or others within nation-states who enjoy some sovereign rights). It falls within the larger context of governance and principles such as consent of the governed, and may involve non-profit organizations and corporate governance.
It can be used to describe a people or group being able to exercise all of the necessary functions of power without intervention from any authority which they cannot themselves alter. Self rule is associated then in contexts where there is the end of colonial rule, absolute government or monarchy, as well as demands for autonomy by religious, ethnic or geographic regions which perceive themselves as being unrepresented or underrepresented in a national government. It is therefore a fundamental tenet of republican government and democracy as well as nationalism. Gandhi's term "swaraj" (see also "satygraha") is a branch of this self rule ideology. Another major proponent of self-rule when a government's actions are immoral is Thoreau.
Generally when self-governance of nation-states is discussed, it is called national sovereignty – a concept important in international law.
13.  Who is Frederick Douglass?
Frederick Douglass (on Wikipedia)
Frederick Douglass (Library of Congress Archives)
14.  George Santayana and the mis-attributed phrase
15.  The Ultimate History Lesson on "The Power Hour" radio show on GCN Network
16.  Jan Irvin's interviews with Larken Rose on Gnostic Media dot com
Larken Rose interview, pt. 3 – "Government – The Fallacy of Ad Verecundiam, pt. 2" – #137
17.  "The Most Dangerous Superstition" @ www.LarkenRose.com
See also: "The Iron Web" by Larken Rose
18.  Corbett Report Episode 218 – The Philosophy of Liberty: The Magna Carta
Peace Revolution partner podcasts:
Other productions by members of the T&H network:
The Ultimate History Lesson: A Weekend with John Taylor Gatto (2012) a journey into the dark heart of public schooling, revealing how America became incoherent, one student at a time.
Navigating Netflix (2011) our video series wherein we conduct a critical analysis of films you might have missed; Navigating Netflix is available for free on YouTube.
"Memories of a Political Prisoner", an interview with Professor Chengiah Ragaven, graduate of Oxford, Cambridge, and Sussex; AFTER he was a political prisoner, who was exiled from South Africa, during Apartheid. (2011)
What You've Been Missing! (2011) is our video series focusing in on the history of corruption in our public education system.
Top Documentary Films dot com: Hijacking Humanity by Paul Verge (2006)
Top Documentary Films dot com: Exposing the Noble Lie (2010)
Top Documentary Films dot com: The Pharmacratic Inquisition by Jan Irvin (2007)